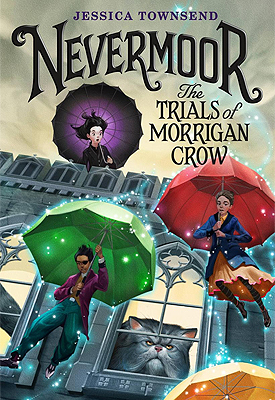 Morrigan Crow is cursed. Having been born on Eventide, the unluckiest day for any child to be born, she's blamed for all local misfortunes, from hailstorms to heart attacks--and, worst of all, the curse means that Morrigan is doomed to die at midnight on her eleventh birthday.





But as Morrigan awaits her fate, a strange and remarkable man named Jupiter North appears. Chased by black-smoke hounds and shadowy hunters on horseback, he whisks her away into the safety of a secret, magical city called Nevermoor.





It's then that Morrigan discovers Jupiter has chosen her to contend for a place in the city's most prestigious organization: the Wundrous Society. In order to join, she must compete in four difficult and dangerous trials against hundreds of other children, each boasting an extraordinary talent that sets them apart - an extraordinary talent that Morrigan insists she does not have. To stay in the safety of Nevermoor for good, Morrigan will need to find a way to pass the tests - or she'll have to leave the city to confront her deadly fate.
Writing
Oh man. I couldn't love the writing in these books any harder. They both got 5 star ratings from me on Goodreads and I am anxiously awaiting the next book in the series. The author's style is whimsical and magical and just perfect for filling the Harry Potter void in your heart. I picked these up because of all the recommendations that compare it to good old HP (particularly
Lauren and the Books
on YouTube) and I was absolutely thrilled when the writing lived up to the hype.
Entertainment Value
Again, Harry Potter feels left and right. Don't get me wrong, this is its own distinct story and is certainly not derivative of JK Rowling's work. I love that Townsend has her own unique style and voice, and the story stands on its own. But the magical whimsy of the Harry Potter universe is felt here. Townsend's magic system of Wunder is, I would say, less traditional than others I've read. I appreciate that she's developed her own thing and steers clear of witches and wizards to make something fully and uniquely her own.
Overall
I never ever read middle grade, so this was a stretch for me. That said, I'm so glad I ventured out of my comfort zone for this series. I can't rave about it enough and I plan to force it down the throats of all my Reader Friends on every occasion I get.
**I read both of these books via my local public library before immediately purchasing copies for myself and my nephew**