Yes, it's been quite a while, but I can't let the year end without doing at least a few best of posts. Only a couple this year, because it has been a really slow reading and blogging year for me, but I do have some books I want to share. Today I'm sharing the Best Christian Non-Fiction I read this year. I read a lot of really great Christian authors this year in various attempts to deal with my divorce and hold on to something a little bit bigger than myself. I found a lot of really great books about dealing with pain and loss and finding comfort when you need it. Hopefully some of these will speak to you as well.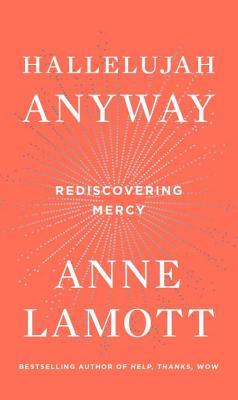 I read this one while I cried on my mom's couch after a particularly devastating weekend in the spring. It was a perfect-book-at-the-perfect-time moment, when I needed mercy for myself and for others. And, as always, Anne Lamott has something to say for everyone and pretty much every situation in life.
Read my review here
.
This is one my mom and I read together and discussed. Like Anne Lamott, Voskamp has a beautiful way with words and writes about loss and death and brokenness and new life beautifully in this book.
Another I read with my mom (you can see a theme emerging here) and another by Voskamp, this one on gratitude. It has the same beautiful words and style as her second book and examines gratitude in ways I had never considered before.
I loved this one so much I read it twice in one year, once during Lent and once over the summer with my church mission community. Warren links everyday practices with each step of the liturgy we practice in church on Sunday and it is a gorgeous meditation on allowing God into the everyday moments of our lives. Probably my favorite of the year.
I read this one at the beginning of the year when my divorce was still fresh and it helped me tremendously. Laura Story tells her own story of how her husband was impacted by a traumatic brain tumor and how, even after his surgery and recovery, his injuries have left him a changed man. She delves into the hard places of how to keep going when God doesn't give you the fix you were looking for and doesn't heal things in the way you imagined he would. A very good read for trying times.
I finally dug into this one in an effort to learn more about the history and theology of the church I attend and what it really means to be Anglican and wound up so impressed that I chose to become a confirmed Anglican at the next opportunity in my area. This book is really well written and provides great information for anyone seeking more information on Anglicanism and what the church believes.
Bolz-Weber is an author I enjoy reading and I have had this book on my shelf for ages and finally dove into it in the last few weeks. I'm glad I did because she tells a great story of redemption and faith and doubt and ongoing struggle with what it means to follow Christ in the midst of difficulty.
Did you read any great Christian non-fiction this year? Care to share in the comments?