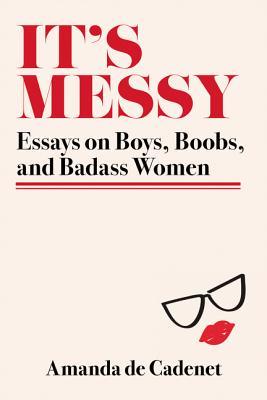 In this deeply personal collection of essays, creator of the The Conversation Amanda de Cadenet shares the hard-won advice and practical insights she's gained through her experiences as businesswoman, friend, wife, and mother.





Amanda is on a mission to facilitate conversations that allow all women to be seen, heard, and understood. Through her multimedia platform The Conversation, she interviews some of today's most bad ass women—from Hillary Clinton to Lady Gaga—in no-holds-barred conversations that get to the heart of what means to be female. Now, in

It's Messy

, Amanda offers readers an extension of that conversation, inviting them into her life and sharing her own story.





From childhood fame to a high-profile marriage (and divorce) to teen motherhood to the sexism that threatened to end her career before it started, Amanda shares the good, the bad, and the messy of her life, synthesizing lessons she's learned along the way. Through it all, she offers an original perspective as a feminist on the front lines of celebrity culture. Edgy, irreverent, poignant and provocative,

It's Messy

addresses the issues, concerns, and experiences relevant to women today.
Writing
As a fan of essays, and feminist essays in particular, I was excited to get a chance to review this collection for a TLC tour. I wasn't familiar with the author and her past when I started the book, but I appreciated how candid she was about her history and how it impacts her as an author and interviewer now. I wasn't overwhelmed with the quality of the writing here, but it was solid. It felt like reading celebrity essays, more than reading author essays, and that's what we were getting. No complaints, but no raves on quality of writing.
Entertainment Value
Thoroughly enjoyable. These are all easy to read and the book itself is short. It can be read in one sitting if you give yourself an hour or two or you can dip in and out as you want. They don't need to be read in any particular order, so it's also possible to skip around to the topics that interest you the most. I found them to be quite entertaining and the book as a whole to be a fun read.
Overall
I recommend it to those who, like me, enjoy essays about feminism or to those who enjoy celebrity memoir. Of course, those who are familiar with the author will also want to check it out.