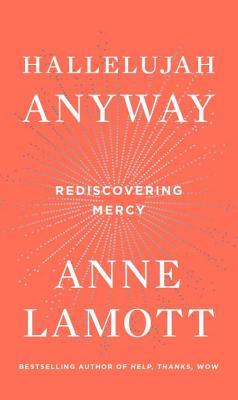 From Goodreads:
In Hallelujah Anyway: Rediscovering Mercy Lamott ventures to explore where to find meaning in life. We should begin, she suggests, by -facing a great big mess, especially the great big mess of ourselves.- It's up to each of us to recognize the presence and importance of mercy everywhere-within us and outside us, all around us-and to use it to forge a deeper understanding of ourselves and more honest connections with each other. While that can be difficult to do, Lamott argues that it's crucial, as kindness towards others, beginning with myself, buys us a shot at a warm and generous heart, the greatest prize of all.
Full of Lamott's trademark honesty, humor and forthrightness,

Hallelujah Anyway

is profound and caring, funny and wise--a hopeful book of hands-on spirituality.
It's been a while, Reader Friends, I know. I've been around, but busy and missing this blog, but also needing some tine away from feeling an obligation to it. I think i'm ready to be back now. It might be slow going for a bit but here I am. Back to the books. When I finished this one I knew it was the one to start back with. I got divorced in December and since then I've been recovering. It's involved a lot of things, good and bad, and I can truly say I've never been in a place before where I've needed to give and receive more mercy. Especially lately. Seriously, this book could not have appeared on my holds list at a more providential time. There is so much mercy I need to extend (to myself and to others) and so, so much mercy I need to let myself receive (and ask for).
Writing
Are there authors more readable than Lamott? Anywhere? Particularly in the area of Christian non-fiction? I mean, obviously there are astounding writers in Christian non-fiction. So many. But Lamott just begs to be read and read and read. I read almost the entire book in a single sitting on a day when my brain was so fried from sadness and anxiety that I literally could not move off the couch. This is Lamott's gift. I couldn't make myself a sandwich. I couldn't drive my car. But I could lay on my mother's couch and read Lamott and receive mercy. I think that's all that needs to be said as far as the quality of her writing, right? It isn't that she's simplistic, it's that she writes from her heart and doesn't get too wrapped up in flowery words. She writes like she's talking to a friend, and when you're at your lowest that's what you need.
Entertainment Value
Again, she's an author I turn to again and again when I'm at my worst because she's been there and she writes like a friend who has been there. She doesn't try to have all the answers, but she does write love. And who doesn't need both love and mercy. This book felt like a friend offering a hug and advice over a cup of coffee and who doesn't need that. It felt like being told "It's going to be ok" and "You're forgiven". And who doesn't need forgiveness?
Overall
This is a must read. Even for those who don't identify with Christianity, Lamott is "spiritual" enough to appeal to a wider range than the traditional evangelical crowd. If you've got an interest in giving mercy, you need to receive some mercy, and especially if you're hard on yourself, this book is something you absolutely need to have in your life.
It came to me via my local public library, and I recommend you check your own for a copy!