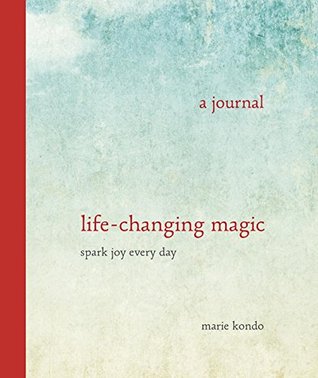 I've read and loved everything Marie Kondo has published and spent hours watching videos of her on YouTube. As weird as it is to type, her underwear folding method has revolutionized my clothing storage. Yes, I know. Weird. But it's so pretty! My drawers look amazing and for the first time in forever I've actually kept my clothing neat and organized for months. Anyway, all of that to say, of course I jumped at the chance to review this journal, because I find Kondo and her methods delightful in every way.
I'm not an excellent journaler, particularly in blank books. I might make some bullet lists every now and then or take some sermon notes, but I never know what to just sit down and write. The great thing about this journal is that it's guided enough to give me an actual thing to write about, but not so guided that I feel like I'm stuck writing about a topic that I'm not interested in.
It's laid out like a calendar with a page for each day of the year. Each day has three entry blanks, so you can use it for at least three years.
For a non-journaler, the short spaces are so freeing. I feel like the small space gives me permission to just make a few notes about my day. I try to put in what I'm reading, something that brought me joy or that I'm thankful for, and any major happenings of the day. It's super short and not intimidating. I know when I pick it up I'll only spend a few minutes with it and wind up with a written account of several years. If you're a fan of her books and methods, this is an obvious buy. I'd also recommend it to those who are hesitant to pick up journaling, who don't enjoy writing lots, or who would like a short daily account that doesn't require much work.
Thank you to Blogging for Books for providing me with a copy to review!