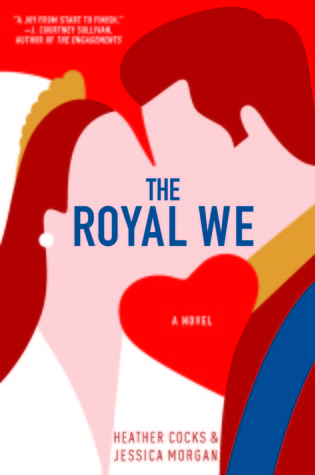 American Rebecca Porter was never one for fairy tales. Her twin sister, Lacey, has always been the romantic who fantasized about glamour and royalty, fame and fortune. Yet it's Bex who seeks adventure at Oxford and finds herself living down the hall from Prince Nicholas, Great Britain's future king. And when Bex can't resist falling for Nick, the person behind the prince, it propels her into a world she did not expect to inhabit, under a spotlight she is not prepared to face.





Dating Nick immerses Bex in ritzy society, dazzling ski trips, and dinners at Kensington Palace with him and his charming, troublesome brother, Freddie. But the relationship also comes with unimaginable baggage: hysterical tabloids, Nick's sparkling and far more suitable ex-girlfriends, and a royal family whose private life is much thornier and more tragic than anyone on the outside knows. The pressures are almost too much to bear, as Bex struggles to reconcile the man she loves with the monarch he's fated to become.





Which is how she gets into trouble.





Now, on the eve of the wedding of the century, Bex is faced with whether everything she's sacrificed for love-her career, her home, her family, maybe even herself-will have been for nothing.
I'm not super into the royals thing (I didn't even watch Will and Kate's wedding and had no interest in the fuss surrounding all of it). I was interested because I enjoy Go Fug Yourself, but I probably would have put it off indefinitely if it hadn't been an FYA pick for the month of February. I'm so glad it was and that I was forced to read it sooner rather than later because it really is delightful.
Writing
I knew I could expect plenty of snarky goodness from the authors, who are behind the hilarious blog Go Fug Yourself, and I was not disappointed. I loved Bex and Nick, but the supporting characters really made the book for me, especially Cilla and Gaz and Freddie. The characters are amazingly well written and I think the authors captured a wide range of situations in a very consistent and believable way.
My one critique of the writing itself is that I think it could have been shorter. By the time I made it to the end, I was ready to be finished. I think just a few too many plot elements were included and it would have served the book better if it were shorter and had a few less plot threads. They do manage to wrap it up well and I loved the ending, but I wish we had gotten to it with a few less hoops to jump through.
Entertainment Value
Because I'm not all that interested in the royal romance element, I found myself most enjoying the portions of the book where we saw the struggles Bex and Nick faced in the public eye. From paparazzi to disapproving family to having the entirety of their lives planned and scheduled for them, the authors did an amazing job of capturing the helplessness and lack of agency that comes with being in the public eye on both a personal and political level. I was struck by how sad it was for Nick to have no choice about what he would study, what interests he would pursue, or when he could take time for himself. It was equally fascinating to watch Bex come into that same situation from a background that had no way of preparing her for the level of scrutiny.
Overall
I loved the book and I highly recommend it, although my reasons may be very different from some others in the book club (I was sick and missed the discussion, but I know the romance angle was a big deal for some). The romance was fun, but it really wasn't something that took my breath away or brought a big emotional pull for me. I really just couldn't get enough of the exploration of fame and royalty and duty that you choose versus duty that you are born into. I recommend it for fans of contemporary romance, those who were enthralled by the royal wedding, and also those who have an interest in the price of fame and power.