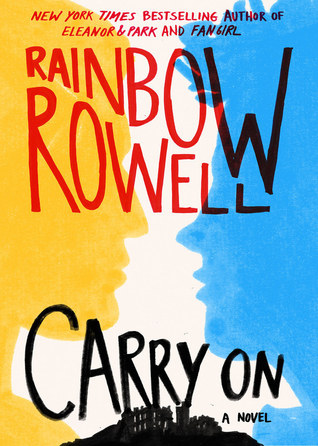 From Goodreads:
Simon Snow is the worst chosen one who's ever been chosen.





That's what his roommate, Baz, says. And Baz might be evil and a vampire and a complete git, but he's probably right.





Half the time, Simon can't even make his wand work, and the other half, he sets something on fire. His mentor's avoiding him, his girlfriend broke up with him, and there's a magic-eating monster running around wearing Simon's face. Baz would be having a field day with all this, if he were here—it's their last year at the Watford School of Magicks, and Simon's infuriating nemesis didn't even bother to show up.



Carry On

is a ghost story, a love story, a mystery and a melodrama. It has just as much kissing and talking as you'd expect from a Rainbow Rowell story—but far, far more monsters.
So if Rowell writes it, I will read it. EVEN if it's a book that was inspired by a fanfic written by a character in a previous book that was inspired by Harry Potter. Ya'll, fanfic is just NOT my thing - if it's yours, that's awesome, but it's not for me. Which is why it took me a while to read Fangirl (which I thoroughly enjoyed) and made me hesitant to read Carry On. Also Carry On is huge and I didn't want to devote myself to a doorstop that I'm not going to enjoy. However. This book is absolutely terrific and so much fun to read. As a Harry Potter fangirl, I felt like this pushed all of the right buttons. I'm sure if I were a fanfic reader I'd have picked up on even more, but there's plenty to enjoy here regardless. It's adorable and sweet and gave me butterflies and kept me intensely entertained throughout.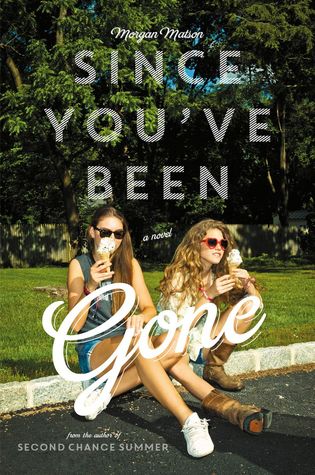 It was Sloane

who yanked Emily out of her shell and made life 100% interesting. But right before what should have been the most epic summer, Sloane just…disappears. All she leaves behind is a to-do list.





On it, thirteen Sloane-inspired tasks that Emily would normally never try. But what if they could bring her best friend back?



Apple picking at night?

Okay, easy enough.



Dance until dawn?

Sure. Why not?



Kiss a stranger?

Um...





Emily now has this unexpected summer, and the help of Frank Porter (

totally

unexpected), to check things off Sloane's list. Who knows what she'll find?



Go skinny-dipping?

Wait...what?
The Nesties read this one in November and even though I'm not a huge fan of contemporary YA romance, I decided to give it a try on audio since I had a lengthy roadtrip around the same time. I did enjoy the listen and I think this was better than many contemporary YA romances - particularly because the love interest isn't the main character's soul mate. It's got the ending you'd expect, but they acknowledge being teenagers and not knowing what's in store for them. My biggest pet peeve is books where characters find their true love at sixteen and just know they'll be together forever. This is a sweet story that maintains a grip on reality, and I liked that. Of course, I had my few requisite old lady moments - teenagers, your friends shouldn't be pressuring you to do things that make you uncomfortable (like sneaking into clubs when you're underage) and standing up for yourself and refusing to do those things doesn't make you boring. If you're uncomfortable, go with that feeling and trust your gut - so sayeth old lady Julie with years of boring experience behind her.
If seventeen-year-old Skylar Evans were a typical Creek View girl, her future would involve a double-wide trailer, a baby on her hip, and the graveyard shift at Taco Bell. But after graduation, the only thing standing between straightedge Skylar and art school are three minimum-wage months of summer. Skylar can taste the freedom—that is, until her mother loses her job and everything starts coming apart. Torn between her dreams and the people she loves, Skylar realizes everything she's ever worked for is on the line.





Nineteen-year-old Josh Mitchell had a different ticket out of Creek View: the Marines. But after his leg is blown off in Afghanistan, he returns home, a shell of the cocksure boy he used to be. What brings Skylar and Josh together is working at the Paradise—a quirky motel off California's dusty Highway 99. Despite their differences, their shared isolation turns into an unexpected friendship and soon, something deeper.
This was the November FYA pick and, again, I read it despite my hesitation regarding the YA contemporary romance genre. Like Since You've Been Gone, I thought it was better than many in its genre. I liked that Skylar had issues other than boys and dealt with them maturely. I loved the motel owner and Skylar's BFFs. I thought there were some slightly subversive elements to the story, like an unrequited romance that remains unrequited, but I wish they had been explored more deeply. Alas, it doesn't end the way I wished it would, but I could handle it. At least no one got married? It doesn't revolutionize the genre, but it wasn't horrible and it reads quickly, so if contemporary YA is your thing, you should give it a try.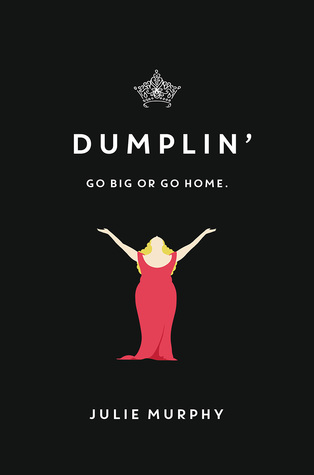 Self-proclaimed fat girl Willowdean Dickson (dubbed "Dumplin'" by her former beauty queen mom) has always been at home in her own skin. Her thoughts on having the ultimate bikini body? Put a bikini on your body. With her all-American beauty best friend, Ellen, by her side, things have always worked…until Will takes a job at Harpy's, the local fast-food joint. There she meets Private School Bo, a hot former jock. Will isn't surprised to find herself attracted to Bo. But she is surprised when he seems to like her back.





Instead of finding new heights of self-assurance in her relationship with Bo, Will starts to doubt herself. So she sets out to take back her confidence by doing the most horrifying thing she can imagine: entering the Miss Clover City beauty pageant—along with several other unlikely candidates—to show the world that she deserves to be up there as much as any twiggy girl does. Along the way, she'll shock the hell out of Clover City—and maybe herself most of all.
This book, ya'll. This book. Probably one of my absolute favorites of the year and you probably noticed that it appeared more than once on my end of year survey. I suppose it could be considered contemporary YA romance because it is set in the now and it is YA and there is a romantic plot, but to me that does no justice to what the book is really about. My fear was that I'd read another book about a plus-sized heroine who has self-esteem issues. Instead, I got to meet Dumplin', who OWNS her body and her relationships and everything else. Not that she's never insecure or never does the wrong thing, but man, is she amazing. She's not ashamed of herself and pretty much dares anyone else to be either. This is basically the definition of a strong female character and I can't WAIT to read more from the author.